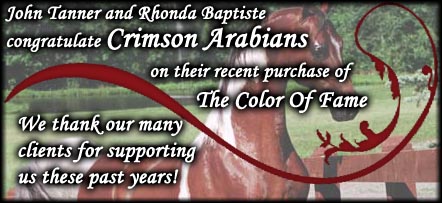 ---

Color of Fame & Zimbolic PGN +/
Serr'Raa Arabians started with the purchase of our first Arabian, Serr'Raa. She had the highest Percentage of Babson Turfa blood in her veins in the nation. Our breeding mission came from Karma through Serr'Raa. We want "to produce Arabians with great eye appeal, that can win at halter, are very athletic and have great trainable minds.
We have two great stallions who fit our breeding mission,
Zimbolic PGN +/ and now The Color Of Fame.
---
Serr'Raa Arabians
John Tanner and Rhonda Baptiste
1569 Floan Point Rd
East Gull Lake, MN 56401
218-831-1112 ***
jaytee77@aol.com
Designed by Arabhorse.com