2008 Beautiful Color of Fame Filly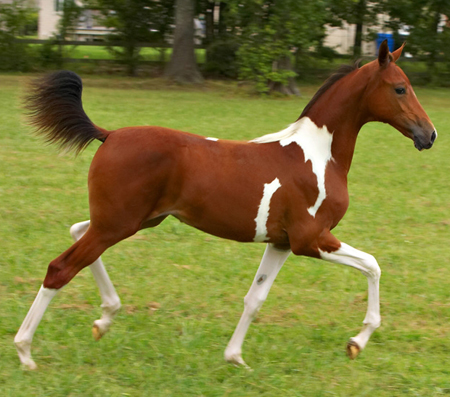 BMA Colorful Affair
(The Color of Fame x Afirey Affair CW)
This filly will be a winner in halter and performance. She has awesome hoch action and has a long upright nech with a thin troat lach. Her Dam is out of King Afire by Afire Bey V. Her Dam has multiple half sibblings that are multiple national Scottsdale and Buckeye champions in halter as well as performance including : "She be Jammin" 3 Time US National Champion breeding saddle pl. type 1 Time Canadian National Champion saddlepleasure type, Scottsdale Champion saddle pl type and Scottsdale Res. Champ. Country pleasure driving; "D-PHI-ANCE++" Regional top five hunter, Regional champion Gelding in hand, and multiple other hunter halter and showhack wins and: "Bella Amora BPA" Top 10 US National yearling filly Region 7 champion yearling filly and 2 Scottsdale top 5 Mare breeding saddle type. She has a great attitude and has been super easy to train for her trims, to tie, lead, bathe and clip. Our plan is to show her next year at region15. $8,500.
If you would like video or more pictures please contact:
Victoria Bryant at 757-971-4011 or Victswede260@cox.net
---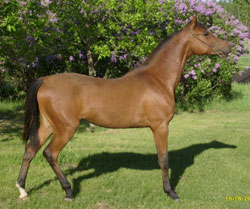 Fames Amazing Grace

National quality halter AND performance horse. "Guinness" is a '07 filly out of the Color of Fame and definitely has his presence. She loves attention and has been one of the easiest horses for me to work with. She needs to be out in the ring and shown – she's a natural. Guinness should mature close to the 16hh mark and is triple registered, Sweeps, and US & Canadian futurities nominated. Stop looking for your next show horse; she'll take you to the top!! Contact Kelli Barnes for pictures and video (barn0363@umn.edu, or 701-320-1603)– asking $4000

---
AA Covergirl
# 1A366952 - National/Scottsdale quality 2008 half Arabian pinto filly by THE COLOR OF FAME x Madawna out of *GONDOLIER Beautifully marked - awesome attitude – Halter prospect Sweepstakes Nominated $17,000.
---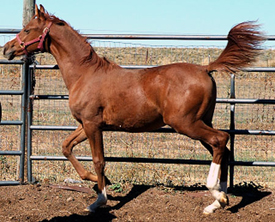 Kool Hand Luke SRA
HAHR 1A 364454 - (The Color Of Fame and Psylk Nsatin TW #557609 by Padrons Pscyche). Chestnut. Nice markings. Kool Hand Luke has long legs, so he is sure to be tall. He sports lots of really nice features and his conformation is very nice. Excellent conformation for halter - well-balanced, long legs and short-backed with a very friendly disposition. He is located in Bennett, CO and is Iowa Gold Star- and Sweepstakes-nominated. $6500
---

Kurious Jorge SRA – (The Color of Fame and RA Fames Nani #519391 by Fame FV) This Chestnut colt born early March has a white blaze and two white soxs. He will be a nice size horse with a long neck. It looks like he will be a very competitive Half Arabian in halter and in performance. He is sweepstakes nominated, the NSH auction Colt and is an Iowa Gold Star auction colt. Priced at $5000
---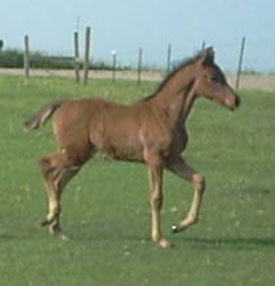 Born to TROT!!
Gorgeous, leggy half-Arab filly by The Color of Fame. This girl has hock action like you would not believe - naturally higher than the knees – at only 3 months old. Fames Amazing Grace has the style and attitude for the halter ring with the build of a performance horse and should mature to the 16+ hand range. "Guinness" is triple registered, Sweepstakes nominated, in US and Canadian halter, Iowa Gold Star, and North Star futurities. She is currently in training for halter and price will increase the longer she is in training. Don't miss out on your next English horse.
For pictures contact Kelli Barnes at barn0363@umn.edu. Asking $7500/obo.
---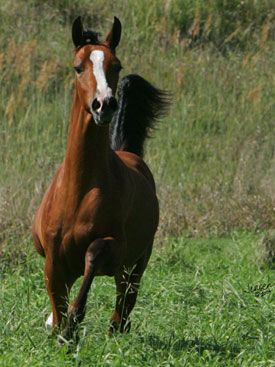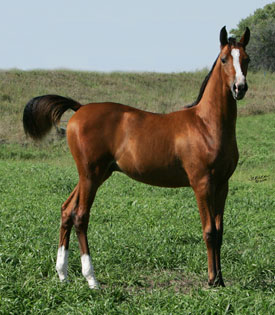 Prime Design SA
A 2006 big bay colt that is out of a Bucharest V daughter, who in turn is out of the dam of DR Sinful Seductions "Primo" is the Iowa Gold Star Auction Colt for 2007. He is also nominated into their open futurity, both National Futurities, and Sweepstakes program. DVD Available.
---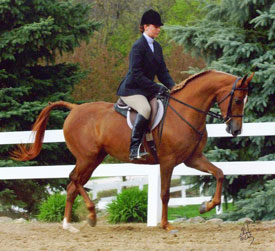 DR Aloven Fame
This three year old filly is already a garnering Regional Top Five wins as a Hunter under Saddle. Her halter career has spanned all three of her years, and she has a 2006 U.S. National Top Ten US Halter Futurity and Canadian national Top Ten Futurity Halter win to her credit, as well as two Scottsdale TopTens, a Regional Championship, and 4 Regional Top Five halter wins.
DR Aloven fame is the perfect amateur or youth horse. DVD and Video footage available.
---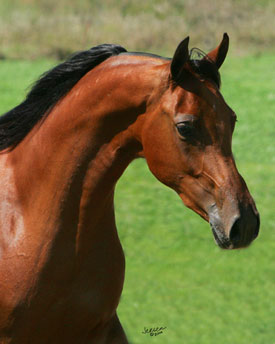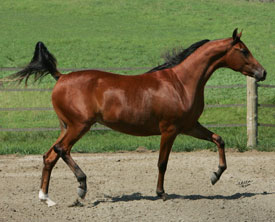 DR Pure Allure
This 2004 filly is already a Regional Reserve Champion at halter as a yearling. She's big, bay, and bold. "Allie" will excel in the performance arena, either as a hunter or a big, beautiful bay western mare. Sweepstakes, National Futurities, and Iowa Gold Star nominated. DVD Available.
---
Color Me Classy HF
Bay and white 2006 filly out of First class daughter. Full sister, The Color of Class HF has three Scottsdale Top 10's, including a 1st in 2&under AOTH. Region 5 Reserve Champion Sweepstakes filly, Region 4 Top 5 Hunter Pleasure Futurity and Region 5 Reserve Champion Hunter Pleasure Futurity. Classy is over 16 hands as a 3 year old, and this filly will be every bit as big. Beautiful balanced color, very striking, sweet personality, and that trademark Color of Fame neck! She is priced at $25,000 Contact Crista at Heritage Arabian Farm 509 701 4469 or via email talismantrainingcenter@worldnet.att.net
---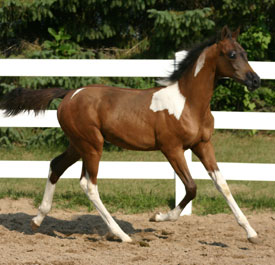 The Rock Of Fame - SOLD
(The Color Of Fame x Brasss Laquette (Brass) )
The Rock is Laquette's first Color foal. Needless to say the minute we saw him we decided to rebreed Brass back to Color again and she is in foal. His marking are great and he has a nice dish in the head. He is going to be a very good-sized horse in the 16+ range. He has the potential to go national in halter and looks like a sure bet to be a great western Prospect. His temperament is low keyed and he is very sweet.