(Colour Me Hot x Baroness Reverie)
After years of having our horses all over the place we have moved them all to Willow Brook Arabians in Buffalo Minnesota. It is the first time our two Stallions have ever been in the same facility. News : the point totals from Scottsdale just came in and we are proud to say we can now tell you that Color was the leading sire of half Arabians for the sixth consecutive year!
Owned by:
Serr'Raa Arabians
John Tanner and Rhonda Baptiste
1569 Floan Point Rd
East Gull Lake, MN 56401
218-831-1112
JAYTEE77@aol.com

Standing at:

Shada Inc.


Jeff and Roxanne Schall

Jerry Schall and Anissa Weber

Dave and Sheila Schall

Austin Miller

22630 Sugar Bush Road

Elk River, MN 55330

(763) 441-5849

www.shadainc.com
Some of his sibling 2004 Canadian finishes
MP Tip Top - top ten junior hunter
Fames Lady Jane - top 10 western pleasure 18-39
Fame Serenade - unanimous halter champion futurity filly, open stock and amateur stock Heirs To Fame - Reserve halter Champion stock
Claim to Fame - Reserve halter Champion Stock

Multi breeding discounts always available.
Stud Fee: Private treaty, Call or e-mail for pricing. [ contract coming soon... ]
AHA Breeders Sweepstakes, NSH Nominated, and Iowa Gold Star Stallions.
Shipped semen available. [ more info coming soon...]
[Color of Fame Video ]
[Progeny's show record]
---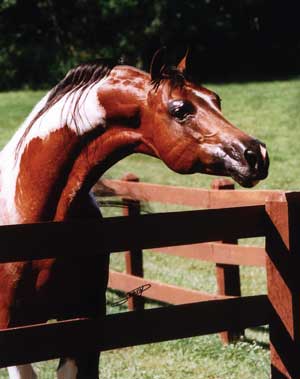 After we bought Zimbolic PGN +/ we talked about buying another stallion for our breeding program. We knew that we wanted one that could produce the type of horses we wanted out of our breeding program. He had to produce offspring that could win at halter, were very athletic, and had trainable minds. We were not in a hurry and really thought it would be a year or two down the line.I had told both Corey James and Jeff Schall to keep there eyes out for another great stallion, but I also wanted one that was already producing nice horses. I was told that it was almost impossible. We believed we would not find one and were hoping Zimmer would produce a colt that could be our next stallion.So off to the 2004 show season and we kept track of every horse we liked and who had sired them. The first show was in Windom Minnesota and in the Half-Arabian Western pleasure class with our Mac is this beautiful black and white Half Arabian with Larry Hoffman riding her. I really liked that horse and saw him four more times. The sire was "The Color Of Fame." Everywhere we went we saw more and more great horses he sired winning at halter, Western pleasure and English Pleasure. I had never dreamed of him ever being available. Then one day my cell phone rings and it was Mike Van Handel who proceeds to tell me he had found my Stallion and I should come down and look at him. When he gave me the name I think I was in the truck in thirty seconds driving down to meet with Jerry and to see "The Color Of Fame" up close. I was shocked that he was available, or as they said possibly. Jerry and I went over the business plan and all of our ideas meshed. So after a month of working on the purchase we finally agreed to terms and now we are the proud owners of "The Color Of Fame."
Some of our plans are to reduce the breeding fees so more people will have the opportunity to breed with this incredible stallion. Expect to see much more of him as we will be bring him out this year and we are even contemplating showing him this year. We feel, without a doubt, that he is the very best choice for anyone wanting to cross their Arabian mares, and are looking for both a halter and performance horse. "The Color Of Fame" is truly the leader in Pinto and Half Arabian Halter and performance winners. He exudes classic Saddlebred conformation, style, and attitude that commands attention.