Eternell Gold SRA
(Magnum Gold x BF Eterneell) Eternity and Bey Shah breeding
The barn name Goldie fits this filly very well, as she is just precious. She will be a very nice size Arabian. She is Bey and has no chrome on her, other than a small faint star. She has her dad's head and looks like she will be as good at halter as both mom and dad. I have been told by a few trainers who have seen her, that they think it could be one of Magnum Gold's best foals. She is for sale.
---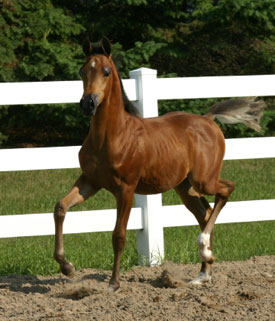 ZhahZim SRA
(Zimbolic PGN +/ X Scimadina (Real McCoy))
This is Zimbolic's first foal. ZhahZim SRA is every thing we were hoping to get. He has dad's head, throatlatch and neck. He has great confirmation from both the sire and the damn. He looks just like his dad's pictures at the same age. He is sweepstakes nominated and is the auction colt for Scottsdale, Minnesota fall fest, Iowa Gold Star and North Star Showcase futurity.
---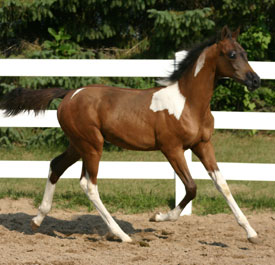 The Rock Of Fame
(The Color Of Fame x Brasss Laquette (Brass))
The Rock is Laquette's first Color foal. Needless to say the minute we saw him we decided to rebreed Brass back to Color again and she is in foal. His marking are great and he has a nice dish in the head. He is going to be a very good-sized horse in the 16+ range. He has the potential to go national in halter and looks like a sure bet to be a great western Prospect. His temperament is low keyed and he is very sweet. He is for sale at $25,000
---
Yearlings:
---
Ka'healani SRA
(Odyssey SC X Coppertique)
Rhonda took one look at Ka'healani and said to her self, "what a sweet little baby!" then a phrase popped in to her head. The phrase was Ka'healani which means in Hawaiian "sweet little Hawaiian baby) she is chestnut and we think the one to watch in the yearling filly halter classes.
---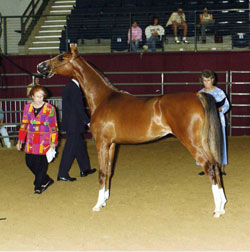 Love My Color SRA


This Color Of Fame filly is out of our Tah Zaman maree Amira Rose. Her Dam side goes to Fire Chief. Her last year's foal took third at Scottsdale. This filly is much nicer. She is Big, Bold, and flashy. She is Sweepstakes, North Star Showcase, NSH and Iowa Gold Star nominated.

In her first show ever she took a top 5 at region 6 in June of 2006 and took top three her next show at region 11. Only for sale to someone who wants to show her in the half Arabian circuit. She is in training right now at Argent Farm Arabians with Andy Sellman and we will be showing her until she is sold. She is priced at $18,500.
---
SRA Fametanium
(Phytanium X Something Fameous)
Magnum's son and VF Fames daughter bring to great bloodlines together. Phytanium was a national Halter champion and Fammie was a regional Halter winner. Fammie's off spring have gone on to be very versatile horses. When she hit the ground our fist thoughts was how in the world Fammie could have carried this filly. Large would be an under statement. Fametanium could not get her head under Fammie to feed, and Fammie is over 15 hands. Fametanium is amazing. Born the week of March 1 st and she looked like a three-month-old filly. She is chestnut, and has three or four white sox's, and a small star. Her head is incredible. Ever one that has seen her says the same thing. WOW. Jerry Schall's first works to us was, don't ever sell this one! We look forward to showing her and watching her develop.