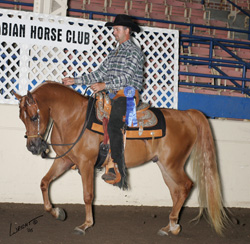 Just Uss
(Just N Nuff +/ X C A Tapatia)
Just Uss is Rhonda's junior western pleasure Arabian. He is at Jody Stands for training and will be showing this year at Jody's by Rhonda. He comes from a strong back ground of National top ten parents. Just N Nuff has two US National top ten titles and four Canadian Nationals top 10 titles. Tapatia with a limited show record has a top ten US National title as well.
---
Troubles legacy
(Sirius Trouble x Dawns Champion)
Troubles legacy is our Arabian gelding that we show. He won his futurity as a yearling. He is now in training for Hunter and driving at our home Facility under Shelly Sellers. He is half brother to our mare, Aw Loves A Dance. He is sweet and loving and is easy to be around. His barn name is troubles and if there is any around, he will find it. He still thinks he's a stallion and loves to puff up and snort. He protects his mares that he stables with, Imagine Mi Bask and Karma.
---