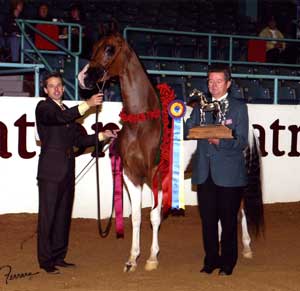 Fames Reflection
Famie was added to our program 12/24/04. She was breed out of "The Color Of Fame" and serves a number of purposes for us. She is the first foal out of one of our stallions in our program. She will be used for showing and breeding. This year we will be showing her in halter and preparing her for a Country English career. She will also be the first cross between our two stallions, The Color Of Fame and Zimbolic PGN +/ and will be breed later in the season. She already holds a US National title, a top ten National title, a top ten Youth National title, two Region titles and one Region reserve title.
---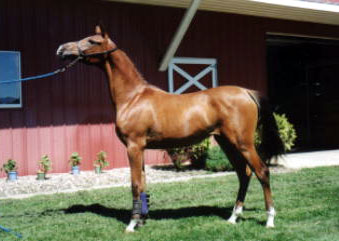 BF Eternell
Eternell is a sought after bloodline of Eternity, and Bey Shah. She is a Minnesota fall festival mare. She is a Junior Champion filly and a Regional Top Ten filly. She was destined for stardom but unfortunately hurt herself and will never be able to be a performance horse. She is tall, stretchy and athletic and will be bred this season.
---
GLF Karma
Karma is a grand daughter of Padron. We consider her our foundation mare. She is why and how we got started in showing Arabians. She has twice been Top Five at Region 10 in halter, was Region 18 Champion in Halter, made the Final 18 at the US Nationals in Halter and Top Five at Region 10 in Western Pleasure Jr. Horse. She has an extremely good record in class A shows in both Open and Amateur Halter, Western Pleasure and in Hunter Pleasure. There are to many firsts to list them all. She is 15.2H and very athletic. We call her princess because she likes to be pampered and prefers to wear leopard prints. We pulled her out of competition at the end of last year to get her ready to be a mother this year. She will be shown sparingly this year. She was breed last week 4/08/04 to Zimbolic PGN +/.
---