[click here for photo gallery]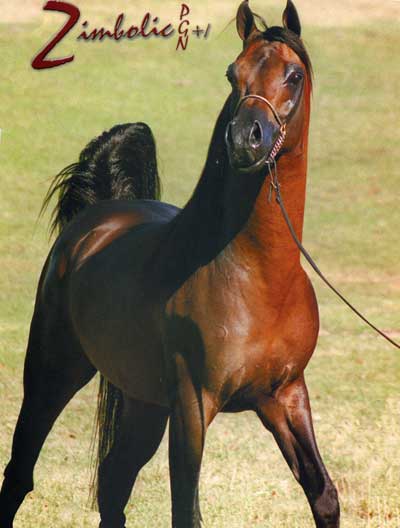 (Shah Azim x Wind Fame)
It's not just about a great body, but about a great mind as well!
Nominations:
Multiple Western Pleasure Champion
AHA Breeders Sweepstakes Sire
Scottsdale Futurity Signature Stallion
Salem Children's Home Sire
Iowa Gold Star Stallion
2004 Minnesota Medallion Stallion
SCID Clear
Transported Semen Available
Stud fee: $2,000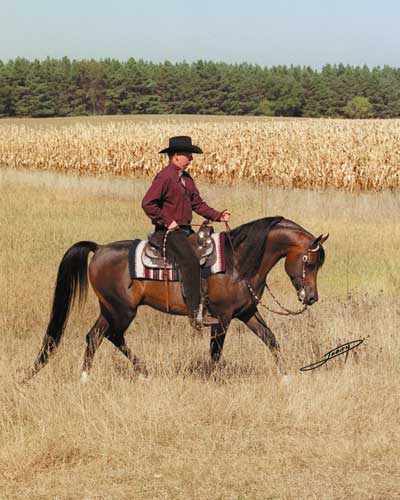 2003 Show results:
Scottsdale: First Western Pleasure AOTR
Region 1: Reserve Champion Western Pleasure AOTR
Top 5 Western Pleasure Open
Region 2: Top FiveWestern Pleasure AOTR
Region 3: Champion Western Pleasure Open
Reserve Champion Western Pleasure AOTR
Region 7: Reserve Champion Western Pleasure Open
Top 5 Western Pleasure AOTR
Canadian Nationals: Top 10 Western Pleasure AOTR
US Nationals: final 16 Western Pleasure Open under his new trainer, Corey James.

Zimbolic PGN +/ accomplishments
Haltered only twice, 2 regional top 10
20 Class A Championships
2 Scottsdale Championships
6 Regional Championships
5 Regional Reserve Championships
7 Regional Top
5 Canadian National Top
10 US. Nationals Top 10
Owned by:
Serr'Raa Arabians
John Tanner and Rhonda Baptiste
1569 Floan Point Rd
East Gull Lake, MN 56401
218-831-1112
JAYTEE77@aol.com

Standing at:

Willow Brook Arabians


Dianne Margerum.

4432 State Highway 25 Se,

Buffalo Mn 55313

(763) 682-9388

www.willowbrookarabians.com
We have the stallion looking for a few great mares. Breeding to outside mares will be limited do to his heavy show schedule. Contact John Tanner for further information.
[click here for photo gallery]
Breeding Mission
To produce Arabians with great eye appeal, that can win at halter, are very athletic and have a great trainable mind.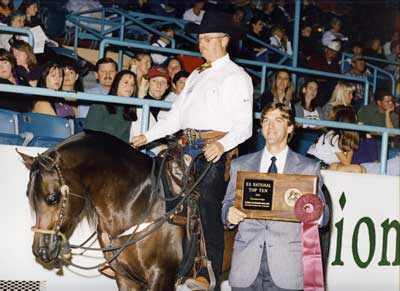 ---
How Zimbolic PGN +/ found us.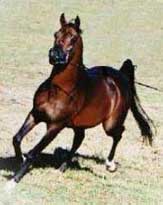 When we decided to start searching for a stallion, we clearly had a vision of what we were looking for. He had to be very conformational correct, he had to be big, he had to have large soft eyes, a purity face, a great neck, be athletic and smart. He had to be the type of horse we wanted to breed. An Arabian that had great eye appeal, that could win at halter, was very athletic, versatile and be very trainable. Trying to find the right Stallion was very difficult and we had almost given up until the right Stallion found us. Zimbolic's previous owner, Mary McCoy while On her way to the Canadian Nationals had decided she was going to sell Zimbolic Pgn+/ to a new owner after US Nationals, if she could find the right people to carry on his legacy. She then won her first Top 10 at Canadian Nationals on Zimbolic PGN+/.
The next stop before going to US Nationals was to take Zimbolic Pgn+/ home for a while in Wisconsin. They made arrangements to spend the night with a friend of theirs in Minnesota on the way Home. That friend was Corey James, our trainer. He encouraged us to come down just to see Zimbolic PGN+/ . "Not often you can see a Canadian National Top Ten horse up close". We had heard about him but Zimbolic PGN+/ being from California, we had never seen him. So we made the trip to Corey's to see this wonderful Arabian stallion. When they pulled into the farm after sixteen hours of driving they unloaded Zimbolic PGN+/ and he was a pure gentlemen that quietly walked to his stall and began to eat. After about fifteen minutes they asked if we wanted to see him under saddle. We were fine just letting him rest but they insisted on showing him off. Sixteen hours in a trailer then stopped in the middle of his feeding and he was unreal! We just watched him do his job perfectly. We stood in awe of the magnificent Arabian stallion. We had found our Stallion, or should I say he found us.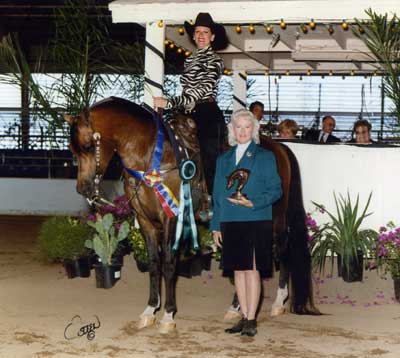 Pedigree for Zimbolic PGN+/

SHAH AZIM
BEY SHAH
BAY EL BEY
BAY-ABI
*NAGANKA
STAR OF OFIR
*BASK
LLANA
JUDA
*BASK
WITRAZ
BALALAJKA
ZAYNAH
GA'ZI
ZIMADA
WIND FAME
FIRE WIND
*BASK
WITRAZ
BALALAJKA
LAKSHMI
RAPTURE
RAGALA
KARELIA
FADJUR
FADHEILAN
BINT SAHARA
SURIMA
SUREYN
BONITA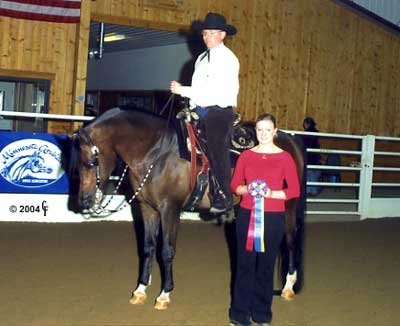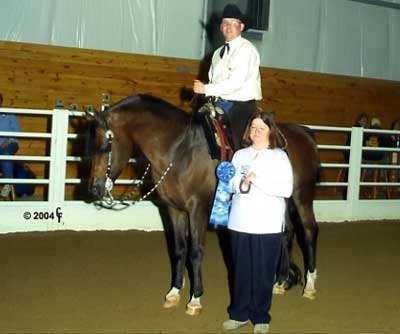 Corey's first ride in region 10 and win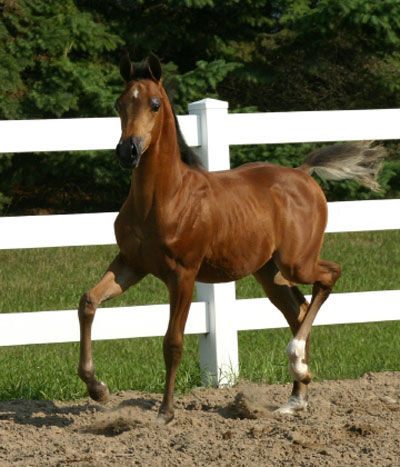 Zhahzim